Community Capital Campaign Pittsfield Renovation
"We did it!" For those of you that joined us for our Ribbon Cutting celebration, you heard our CEO, Jessica Rumlow, announce this, with a sigh of relief, in our new McGraw Family Sport Court in front of a huge audience. The construction on Berkshire Family YMCA's Pittsfield Branch renovation and expansion project is nearly complete. While we are so thrilled to be celebrating the completion of construction, we have not yet finished our capital campaign.
Now, we come to you, our community and our Y members to show your support for the Full of Possibilities Capital Campaign. We invite you to help us bring some color to the white walls on the Jane & Jack Fitzpatrick Track and celebrate the view our new windows bring of Downtown Pittsfield, Bousquet, and the Berkshire Hills!
We are setting a community goal of $200,000. This is your opportunity to make both a gift and literally leave your name on the wall at the Y! We will honor $500+ gifts on the wall with your name or a family name engraved on a raised, colorful circle on the white wall to the left of the south facing windows of the track. All gifts to this community initiative will be acknowledged under the heading, "This view is brought to you by…."
Gifts of $500 will recognize 1 name (1 Circle)
Gifts of $900 will recognize 2 names (2 Circles)
Gifts of $1300 will recognize 3 names (3 Circles)
Gifts of $1700 will recognize 4 names (4 Circles)
Gifts of $2100 will recognize 5 names (5 Circles)
SPECIAL THANKS TO OUR SPONSORS-TO-DATE!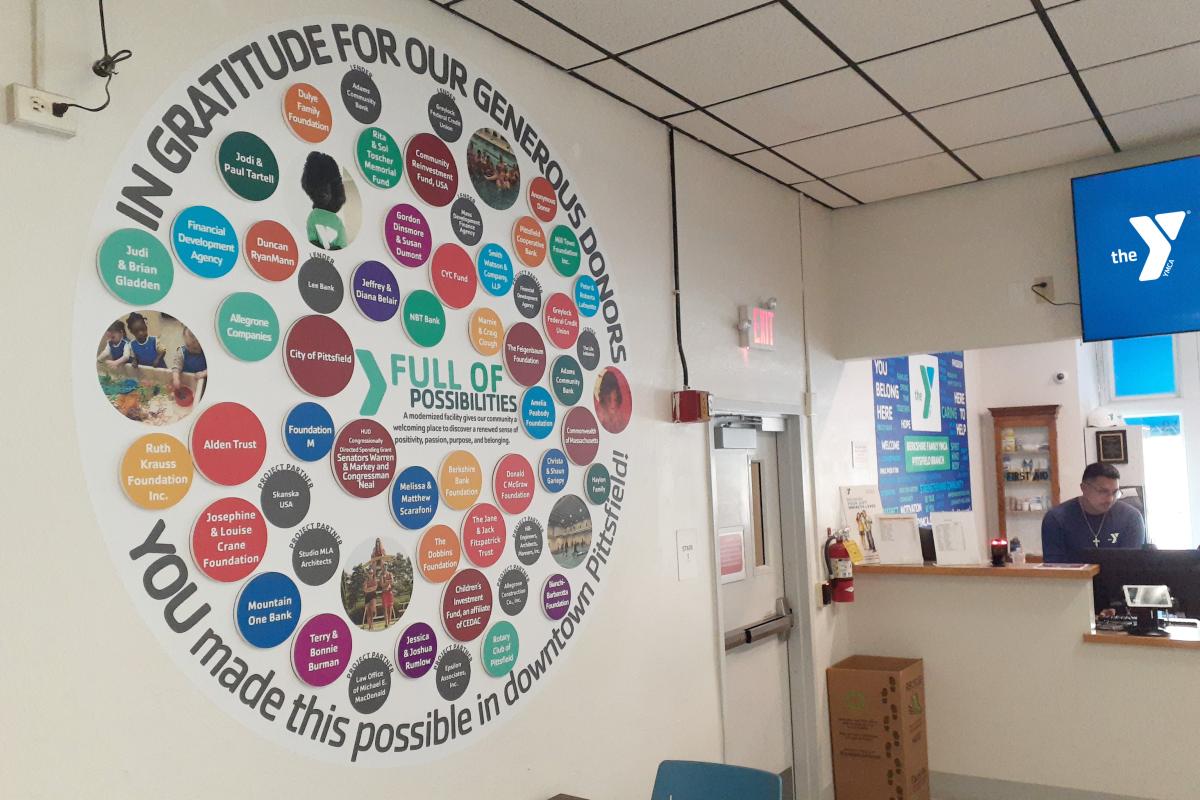 CAPITAL CAMPAIGN CASE FOR SUPPORT
Funding Commitments & Donations $150,000+:, Children's Investment Fund, City of Pittsfield CPA Fund, Commonwealth of MA Historic Tax Credits & Funding Earmark, Donald C McGraw Foundation, Feigenbaum Foundation, The Jane & Jack Fitzpatrick Trust
Thank you to our Corporate, Foundation, and Government Pledges to Date (in alpha order): Adams Community Bank, Amelia Peabody Foundation, City of Pittsfield's American Rescue Plan Act Funds, Berkshire Bank, Bianchi/Barbarotta Foundation, Children's Investment Fund, City of Pittsfield's Community Preservation Act, Commonwealth of MA Funding Earmark, Community Reinvestment Fund (CRF), CYC Fund, Dobbins Foundation, Donald C McGraw Foundation, Dulye Family Foundation
Feigenbaum Foundation, Fidelity Charitable Gift Fund, Financial Development Agency, Foundation M, Greylock Federal Credit Union, Guardian Life Insurance, Jane & Jack Fitzpatrick Trust, Krauss Foundation, Commonwealth of MA Historic Tax Credits, Mountain One, NBT Bank, Pittsfield Cooperative Bank, Rotary Club of Pittsfield, Smith, Watson & Company, LLP + Special thank you to our individual donors!
Jessica Rumlow
Executive Director/CEO
413-499-7650 x112