STRONG SWIMMERS, CONFIDENT KIDS
The YMCA swim lessons increase accessibility and enjoyment of swimming to all ages and skill levels. The latest evolution of Y Swim Lessons accommodates varying abilities to help foster a sense of achievement as swimmers progress between levels. Through this approach, advanced swimmers flow more easily to higher levels while swimmers who need more instruction can learn at their own pace. This results in more confident swimmers who stick with lessons and develop a love for swimming that can last a lifetime. Our Aquatics staff members are available to answer any questions about the swim program and to help place your child in the appropriate swim level.
This program is offered through our Pittsfield and Bennington Rec branches.
Who can register?
Additional Information:
There is NO OPEN SWIM DURING SWIM LESSONS.
At least 2 children must be enrolled in a class for it to run. Class dates/times may change to accommodate enrollment.
We offer Swim Lessons year-round.
UPCOMING SESSIONS
*Please note: If program information does not display and you are using Safari on your desktop, you will need to allow cookies in your browser's privacy settings. If you are viewing this page in Safari on a device using iOS14, you may need to update your Safari settings by going to your device's settings > Safari, then make sure both "Prevent Cross-Site Tracking" and "Block All Cookies" are disabled/unchecked​. You can also access the program information here: https://ops1.operations.daxko.com/Online/2245/ProgramsV2/Home.mvc.
Use the tools to the left to filter by Location, Days of the Week, Time, Date Range, Birth Date:
How do I choose the level that is right for my child?
New to our swim lesson program? The swim lesson selector below is a helpful guide. Still not sure, speak to a swim instructor or Program Director.
Already taken Y swim lessons? Discuss the appropriate next level with your swim instructor.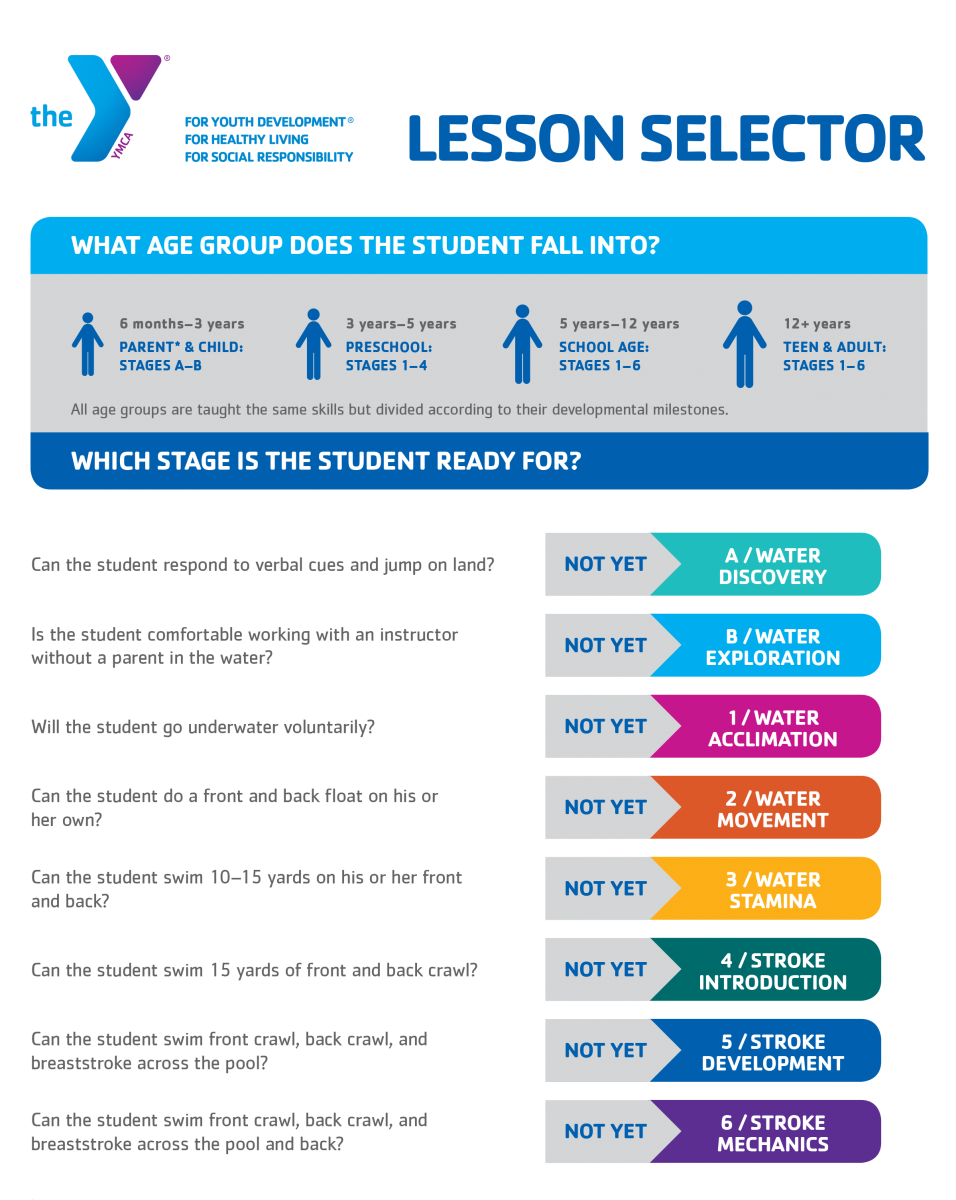 PARENT/CHILD SWIM LESSONS
The Parent/Child and Preschool Aquatic Program is special because it reaches children and parents early in their relationship. Parents and guardians are given guidance on how to develop their children's abilities and will participate in age-appropriate activities. Together, you and your child will explore a new environment and build skills that add to their growth and development.
A / Water Discovery, Ages 6 - 36 months
Parents accompany children in stage A, which introduces infants and toddlers to the aquatic environment through exploration and encourages them to enjoy themselves while learning about the water. Children require a swim diaper.
B / Water Exploration, Ages 6 - 36 months
In stage B, parents work with their children to explore body positions, floating, blowing bubbles, fundamental safety and aquatic skills. Children require a swim diaper.
YOUTH SWIM LESSONS
Berkshire Family YMCA swim lessons increase the accessibility and enjoyment of swimming to all ages and skill levels. There are two categories of for children ages 3 and up, Swim Basics and Swim Strokes.
Swim Basics (Stage 1, 2 and 3) develops personal water safety and basic swimming skills in students of all ages. Swimmers develop a high level of comfort in the water by practicing safe water habits, engaging in underwater exploration, and learning how to swim to safety and exit if they fall into a body of water.
Swim Strokes (Stage 4, 5, 6) introduces and refines stroke technique. Having mastered the fundamentals, students learn additional water safety skills and build stroke technique, developing skills that prevent chronic disease, increase social-emotional and cognitive well-being and foster a lifetime of physical activity.
Swim Basics, Stage 1 / Water Acclimation
In stage 1, students develop comfort with underwater exploration and learn to safely exit in the event of falling into a body of water. This stage lays the foundation that allows for a student's future progress in swimming.
Swim Basics Stage 2 / Water Movement
In stage 2, students focus on body position and control, directional change, and forward movement in the water while also continuing to practice how to safely exit in the event of falling into a body of water.
Swim Basics Stage 3 / Water Stamina
In stage 3, students learn how to swim to safety from a longer distance than in previous stages in the event of falling into a body of water. This stage also introduces rhythmic breathing and integrated arm and leg action.
Swim Strokes, Stage 4 / Stroke Introduction
Students in stage 4 develop stroke technique in front crawl, and back crawl, and learn the breaststroke kick and butterfly kick. Water safety is reinforced through treading water and elementary backstroke.
Youth Swim Strokes, Stage 5 / Stroke Development
In stage 5, students work on stroke technique and learn all major competitive strokes. The emphasis on water safety continues through treading water and sidestroke.​
Youth Swim Strokes, Stage 6 / Stroke Mechanic
In stage 6, students refine stroke technique on all major competitive strokes, learn about competitive swimming, and discover how to incorporate swimming into a healthy lifestyle.

Swim Lesson Selector